Moe Myanmar Language Centre is a dedicated Burmese language centre with Myanmar teachers in Yangon.
With different Burmese lessons and course schedules, you will master Myanmar majestically, whatever your level and language needs!
Serious Myanmar language learners need look no further: Moe Myanmar Language Centre seeks language excellence, in which students can rapidly develop their ability to speak, read and/or write Myanmar in a dedicated centre using proven techniques from expert, experienced and highly-regarded Burmese language teachers.
Students will learn in a comfortable, air-conditioned classroom environment, fully equipped and geared toward good study, in small groups of up to 6 students each. Class sizes are deliberately small so that our Burmese language teachers can pay individual attention to students and ensure students gain maximum benefit from each lesson. You can arrange your own group or inquire about existing groups you can join, make new friends and have fun while learning!
Moe Myanmar Language Centre uses proven, highly-popular and effective student-oriented teaching styles for the group lessons, deploying many teaching aids and materials to aid learning, including flash cards, video, audio and participatory exercises.
Students will be given audio specific to each lesson, along with homework to be completed and reviewed at the next lesson – without these, too many students forget what they learnt, wasting time and money covering old ground.
Lessons can be arranged around a schedule which suits the group, including outside office hours, weekends, early mornings or late evenings. From survival Burmese for tour groups, executive and corporate lessons or Burmese for every day use, Moe Myanmar Language Centre can meet and exceed your language learning needs and expectations.
Find out more – contact MMLC today. Just fill out the form to the right.
Where We Are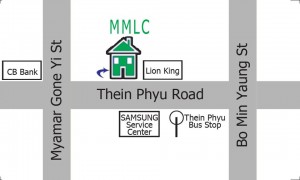 Click on image for larger version
Located in downtown Yangon, close to Aung San Stadium Moe Myanmar Language Centre is easily accessible from areas popular with expats, such as Kandawgyi and the area around Yaw Min Gyi Street, as well as Yangon's major hotels such as Traders and the Parkroyal.
Moe Myanmar Language Centre
Top Floor
436 Thein Phyu Rd
Yangon, Myanmar (Burma)
Don't miss out!
Spaces on courses fill up quickly